MARCH 23, 2018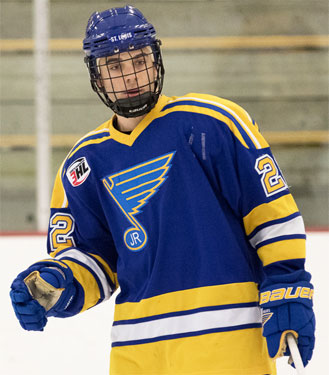 Coastal Division Finals, Game 2: New England Stars 1 @ L/A Nordiques 0 (New England wins series, 2-0) – A lone goal – almost exactly halfway through the game at 15:20 of the second – decided the match. New England's Zachary Cormier found the back off the net, assisted by Ryan Gauvin, to secure the Stars a spot in the Fraser Cup Championship. Greg Moon made 27 saves for the Stars' shutout, while Sage Broda stopped 31 shots for the Nordiques.
Midwest Division Finals, Game 1: Peoria Mustangs 0 @ St Louis Jr Blues 3 (St Louis leads series 1-0) – A pair of goals from John Shively powered the St Louis Jr Blues to a 3-0 shutout win in game one of the Midwest Division finals over the Peoria Mustangs. Joe Papa also scored for the Jr Blues, and Mark Capkovia, Daniel Dunaway, Jake Cox, and Jack Hatton tallied assists. St Louis goaltender Blake Bjella made 13 saves for the shutout, while Jaden Gardner stopped 28 shots in net for the Mustangs.
East Division Finals, Game One: Metro Jets 6 @ Pittsburgh Vengeance 0 (Metro leads series 1-0) – The Metro Jets started off with a 2 goal lead early in the first, and carried that momentum all the way to a 6-0 win over the Pittsburgh Vengeance in game one of the East division finals. Connor Inger scored twice for the Jets, while Griffin Sawyer, Robby Flannery, Jhuwon Davis, and Jeremy Schwartz each notched one. Marc Schwartz (4), Matt Schaumburger (2), Kyle Gierman, Anthony Cinato, Rhett Limback, Sawyer, and Brodie Thornton recorded assists. Metro's Andrew Kormos made 19 saves for the victory, while Joel De Simone and Jacob Zab made 13 and 18 saves each for Pittsburgh.
South Division Finals, Game One: Mid Cities Jr Stars 3 @ Texas Brahmas 6 (Texas leads series 1-0) – A strong third period helped the Texas Brahmas push to a 6-3 win over the Mid Cities Jr Stars in Game One of the South division finals. Ashton Norris, Bennett Weycker, Kellen Ireland, Cameron Bickford, Dakota Davis, and Kyle Cote each scored for the Brahmas, with assists from Jacob Gray (2), Jarrod Croswell (2), Luke Bombardir (2), Michael Redmon, Kyle Cote, Robert Seger (2), Norris, and Michael Walsh. For the Jr Stars, Nick Sheridan (2) and Conor Simpson netted goals off passes from Bryce Harrison, Eric Fisher, Blake Wood, Brandon Speights, and Nick Snyder. Texas' Carson Murison made 18 saves, while Matthew Lenz recorded 24 saves in net for Mid Cities.